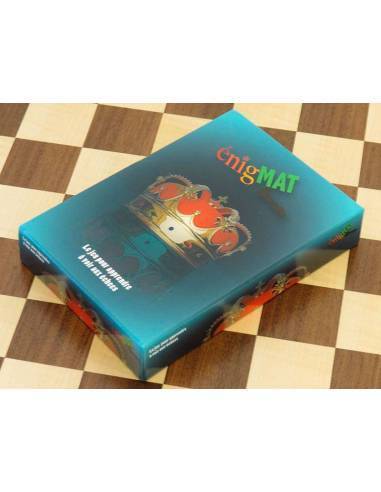  
Énigmat

Secure payment with SSL Certificate

Shipping all over the world

30 day return
A game for all ages. It can be played alone, in pairs, or in teams ...
Content:
The game is composed of 24 chess boards divided into 4 parts.
A complete board is made up of 4 parts: each card that makes up a board will have the same color and symbol.
Objective of the game:
The objective is simple, the 4 parts of the board must be brought together so that they constitute a mate position.
It is a mainly visual game, with pedagogical objectives:
Enigmat tries to familiarize the player with the horizontal, vertical and diagonal movements and strategies that surround the world of 64 squares.
It allows the assimilation of the notions of check and checkmate.
- Train agility and mental speed in the recognition of learned patterns.
Enigmat is intended for players of all levels, who already know the movement of the pieces. In all the boards the black King is the one in mate.
This game is very well adapted for the beginner player, since he does not have to do calculations.