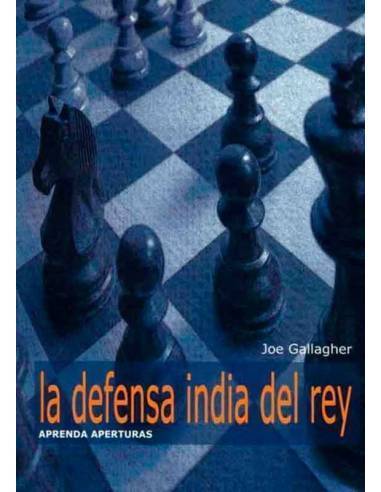  
Learn starts. The King Indian defense
India King is one of the most exciting defenses in chess, and a favorite of ambitious and aggressive players

Secure payment with SSL Certificate

Shipping all over the world

30 day return
Calculate Delivery Cost
India King is one of the most exciting defenses in chess, and a favorite of ambitious and aggressive players. At the highest level, it has been the most used by world champions the likes of Garry Kasparov and Bobby Fischer weapon.
This easy to read guide, Grandmaster Joe Gallagher returns to the fundamentals of defense and studying the key principles of its many variants. Throughout the book there are many notes, tips and warnings to help the player progress, while strategic and tactical ideas for both sides are clearly illustrated.
Joe Gallagher, English grandmaster, British champion in 2001, lives in Switzerland and has regularly been part of the team of that country. It is also an author prestigious chess. Among his works are The Magic of Mikhail Tal, The Trompowsky and his recent monograph Learn Openings belonging to the collection published by the House of Chess: The Caro-Kann defense.
Data sheet
Editorial

La Casa del Ajedrez

Autor

Gallagher, Joe

Format

17 cm x 24 cm

Binding

Paperback

Pages

192

Edition

1ª 2009

ISBN

9788492517046

Openings

King's Indian

Collections

Learn openings

Year of publication

2009