When do we like chess more? Sure, if we win the games! 25 years ago, Fritz participated in his first tournaments and humans still had real options to win it. After a short time, Fritz began to impose one great teacher after another. Since his 4: 2 victory over World Champion Kramnik in 2006, Fritz is invincible. So what incentive does he have to play against him?
With Fritz 16 chess is again entertaining: the assisted analysis allows to receive discrete graphic indications and the FritzEmoticons will reveal the mood of the chess engine at all times. Even those who only have basic knowledge of chess can play interesting games against Fritz and even beat him. And in the event that they were defeated by the machine, Fritz 16 would explain to them immediately after the game what the lost opportunities have been, through tactical analysis. It could also start the new function of calculation training, called "Easy Play". Speaking of the game force: the new multiprocessor module has been developed by the star programmer Vas Rajlich ("Rybka").
More mobility with Fritz 16: the ChessBase Account (with 6 months of Premium subscription), guarantees complete access to ChessBase web applications even with iPad, Android tablets or smartphones. There are 6,000 videos of chess training, 60,000 tactical problems, 8 million games in the Live Database and, of course, you can play chess on Playchess.com. By the way: as soon as the game is over, you will automatically receive a complete analysis to help the human being improve their performance.
No chess program offers more functions. The online manual is very extensive and has more than 400 pages, but probably you will not even need it because the use of Fritz 16 is absolutely intuitive. Just click on the function you want to use (for example, play against the machine, analyze, play chess through the Internet, etc.) and Fritz 16 will show you an environment with the functions you need.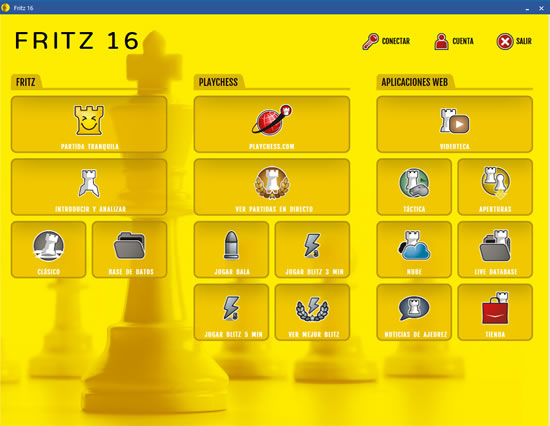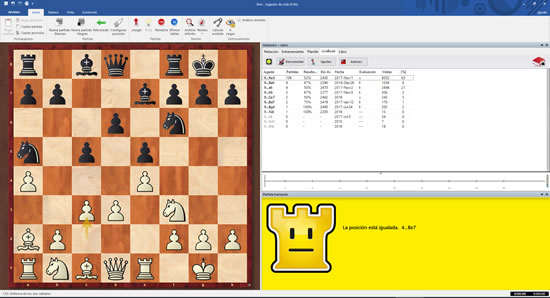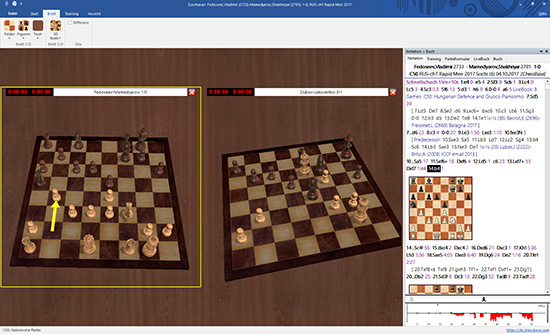 Language

Spanish

EAN-13

978-3-86681-633-6
PC Intel i5 (Quadcore), 4 GB RAM, Windows 10, DirectX10, tarjeta gráfica con 512 MB RAM o más, tarjeta de sonido al 100% compatible con DirectX10, Windows Media Player 11, unidad lectora de DVD-ROM y acceso a Internet.
Pentium III 1 GHz, 2 GB RAM, Windows 7 o 8.1, DirectX9, tarjeta gráfica con 256 MB RAM, unidad lectora de DVD-ROM, Windows Media Player 9 y acceso a Internet.
No customer questions for the moment.
Ask a question
Your Question has been successfully sent our team. Thanks for question!