Maximize
* The program is translated into Spanish.
The magician is back! With the most recent version of this pointy chess program, Houdini 5, Robert Houdart has managed to re-catapult the circle of the elite of cyber-chess, managing to maintain the unique and individual character of its module.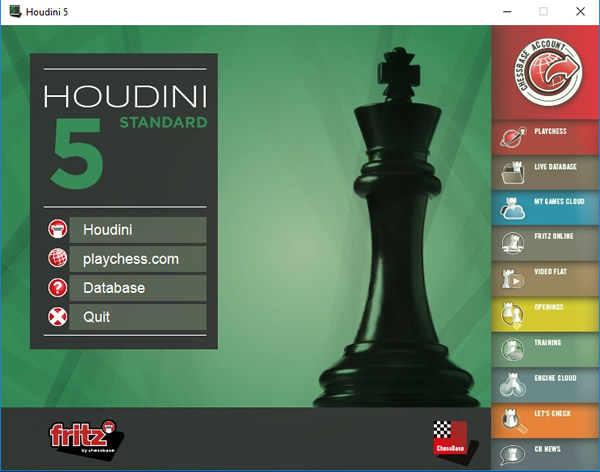 His departure to the market took some time, as it already three years after the appearance of his predecessor. However, it was worth the wait. Houdini 5 returns to the board a rejuvenated and reinvigorated module, which has an astonishing 200 points Elo more than Houdini 4. That represents a practically inconceivable jump in the force of game by the standards of today, that the programmer Robert Houdart was only able Of developing new techniques and ideas.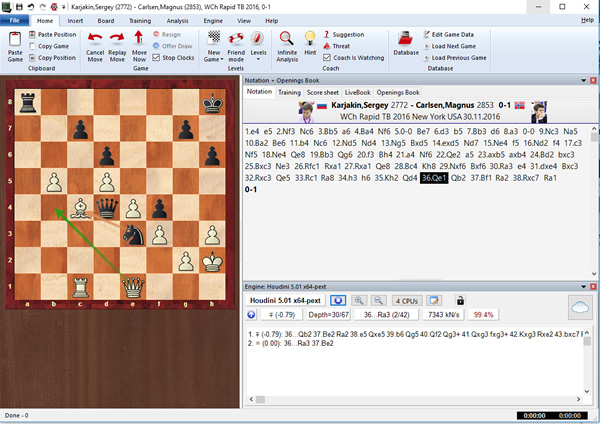 A decisive factor is the completely redesigned rating function, which has been redesigned to take better account of the king's safety and the play of parts. Houdini's unique style of play is the result of an astute combination of aggressive gameplay, positional solidity and strategic understanding. What makes play and analyze with Houdini 5 particularly interesting is the great plethora of ideas with which it comes: the program has all the characteristics of unbridled creativity. . Where other engines see no way forward and continue towards the boards, not infrequently Houdini discovers hidden and surprising resources.
Unlike its predecessor, Houdini 5 is more selective in establishing candidate plays, allowing you greater depth of search. This modification benefits all phases of the game, but especially the end. For a perfect end game, Houdini 5 can use the Syzygy * end tables (available on 4 DVD, "Endgame Turbo 4") combined with Nalimov tables and so is always able to find the fastest way to give mate * .
Houdini 5 also uses the "lazy SMP" algorithm, which means it is capable of achieving better results than ever before in multiprocessor systems.
The new module can take advantage of the computing power of up to 128 cores simultaneously.
The preliminary version of Houdini 5 convincingly won the recent "TCEC Season 9 Rapid", ahead of all other major programs, adding 56 points in 62 games (50 wins and 12 tables). The final version of Houdini 5 outperforms even that performance in Another 30 Elo points, making it the best program in the world today.
The Standar module is designed for multiprocessor systems with up to 6 cores and can use 4 GB of RAM.
The Pro module is optimized for multiprocessor systems with up to 128 cores and can use 128 GB of RAM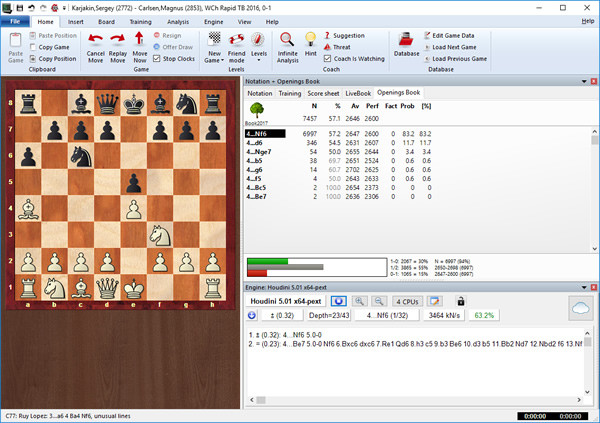 It includes:
Houdini 5 Module (Standard or Pro)
The latest Fritz 15 interface
Premium subscription to playchess.com and ChessBase account (6 months)
Internet access to the world's largest analysis database, "Let's Check", with more than 200 million positions analyzed in depth (6 months)
* Final tables are not included in Houdini 5.
ISBN

978-3-86681-579-7

EAN-13

9783866815797
Mínimos: Pentium III 1 GHz, 2 GB RAM, Windows 7/8, DirectX9, tarjeta gráfica con 256 MB RAM, unidad lectora de DVD, Windows Media Player 9 y acceso a Internet. Recomendados: PC Intel i5 (Quadcore), 8 GB RAM, Windows 10 u 8.1, DirectX10, tarjeta gráfica con 512 MB RAM o más, tarjeta de sonido 100% compatible DirectX10, Windows Media Player 11, unidad lectora de DVD y acceso a Internet. Requisitos del sistema para la cuenta ChessBase: acceso a Internet y navegador actualizado, por ejemplo, Chrome, Safari. Para Windows, OS X, iOS, Android, Linux.