ChessBase 14 is an independent chess database management program that has become a global reference. Everyone uses ChessBase, from the world champion to the amateur neighbor. It is the program chosen by anyone who loves the game and wants to know more about it. Start your personal success story with ChessBase and enjoy your chess even more.
WHAT YOU CAN DO WITH CHESSBASE:
Select games for openings, players and tournaments; Generate tournament tables and complete statistics with player graphics or openings; The search for similar offers all the games with structures of pawns, models of sacrifices, positions of end, etc. Similar; "Let's check" *: access to the world's largest deep analysis database (over 200 million positions); Analysis cloud: analyze a position with several modules on different computers running in parallel; Deep analysis: it generates an analysis tree that changes dynamically as over time the weaker variants are discarded; Comment of theoretical developments with a click; Merging of items into a tree of variants on the fly; Generation of player dossiers with all the information available in the database; Preparation of large reports of openings with major variants and critical reviews, plans and major items; Publishing games online with a single click; Printing of games in high quality, with diagrams and several columns; Automatic update of its reference database with weekly deliveries of items (one year); Integrated Internet database with more than 8 million items *; Mobile access with the new ChessBase * account.
NEWS IN CHESSBASE 14:
From zugzwang's "A" to "Z": in the new program ChessBase 14 there are a lot of improvements that make it easier to add and analyze games, as well as the production of training material or practice.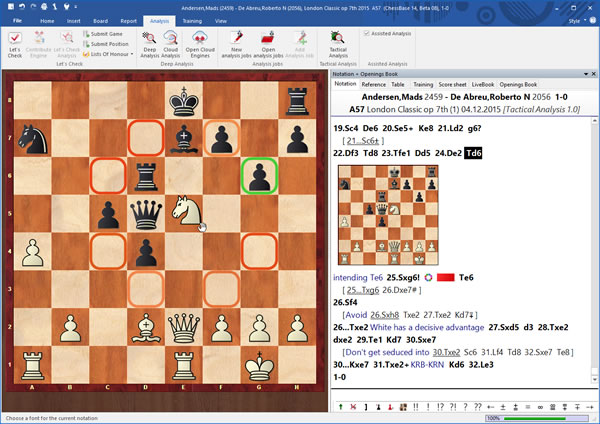 "Análisis asistido": a medida que introduce una partida, cada vez que hace clic en una pieza se ofrece una valoración de todas las posibles casillas de destino, que se muestra sobre el tablero con un código de colores.
La función "Análisis táctico" insertará comentarios, variantes y diagramas sobre jugadas fuertes o errores, en una partida o en toda una base de datos. También anotará combinaciones jugadas en las partidas o pasadas por alto, intentos, ataques, iniciativas y, por supuesto, lo más reciente en teoría de aperturas.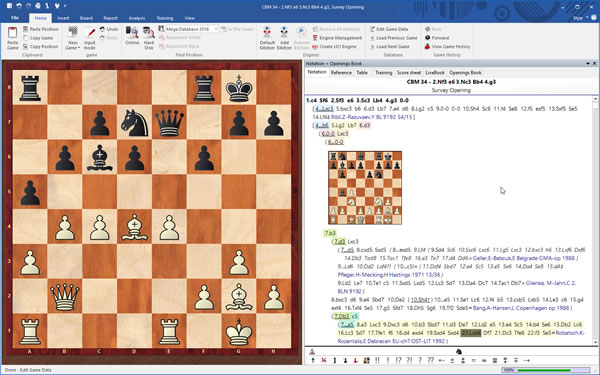 Other improvements: access to games commented on Live Database *; New game notation with diagrams and color highlighting of nested variants, unique access to all ChessBase servers (Playchess, ChessBase clouds, Let's Check, ChessBase account), complete game analysis with quick error fetch, Search, export of diagrams to Word documents to produce training material, automatic analysis of postal items, simpler production of training questions, search for similar structures now more interactive, considerable acceleration of substitution of items in databases Very large data, improved duplicate search, simplified system to activate FritzTrainer and modules and much more.
* Access by PREMIUM subscription to the ChessBase account
The Starter package includes:
• ChessBase 14 program with access to Live-Database (8 million games)
• Big Database 2017
• Subscription to ChessBase Magazine 6 months (3 issues)
• Update of the database until the end of 2017
• Premium subscription 6 months to Playchess and ChessBase Account
ISBN

978-3-86681-574-2

EAN-13

9783866815742

King Height

20 CM.

Mida tauler

90x90 cm
PC Intel Core i7, 2.8 GHz, 8 GB RAM, Windows 10, tarjeta gráfica DirectX10 (o compatible) con 512 MB RAM o más, Windows Media Player, lector de DVD, monitor de alta resolución y acceso a Internet para activar el programa, nubes ChessBase y actualizaciones.
Pentium-PC, 1 GB RAM, Windows 7, tarjeta gráfica DirectX9 con 256 MB RAM, lector de DVD, Windows Media Player 9 y acceso a Internet para activar el programa, nubes ChessBase y actualizaciones.
No customer questions for the moment.
Ask a question
Your Question has been successfully sent our team. Thanks for question!