Here is a summary of some of the highlights of the ten issue of Capakhine, the chess magazine for children and their parents.
In addition to the outstanding contents that we summarize, in the magazine you will find many more didactic contents of chess for children and articles of interest for parents.
Content of the two versions, in the corresponding tab.
Editorial

Capakhine

Format

21 cm x 29,7 cm

Binding

Paperback

Pages

100

Edition

Summer 2017

Language

Spanish

Collections

Capakhine

Year of publication

2017
Aperturas de ajedrez: Cómo jugar contra la defensa Grunfeld. Por el M.F. Luis Fernández Siles
Para todos aquellos que están creando un buen repertorio de aperturas con peón de dama, les vendrá bien una línea sencilla y práctica con la que enfrentarse a la temible Defensa Grunfeld, tan de moda en los últimos años (desde que Kasparov la jugara en sus tiempos). Hoy en día es una de las principales defensas del negro, sobre todo para jugar a ganar y buscar posiciones desequilibradas. Nuestro director os propone una variante que saca al rival de las estructuras típicas y que resulta muy recomendable.
Estrategia: Los peones colgantes. Por el G.M. Enrique Rodríguez Guerrero.
Nuestro maestro estratega favorito continúa el repaso que está realizando a las principales debilidades en las estructuras de peones. Como siempre, Enrique no se centra solo en lso defectos y cómo jugar contra ellos, sino que habla de las posibles virtudes que se les puede encontrar a estas teóricas "debilidades". Pues bien, los peones colgantes son bastante frecuentes u merecen toda la atención que le dedica nuestro gran maestro favorito.
Táctica y Semáforo Táctico. La intercepción. Por Antonio Gude.
El eminente autor español nos explica uno de los recursos tácticos principales, la intercepción. El más proflífero y prestigioso de los escritores especializados en ajedrez nos ofrece una selección de problemas de táctica en los que el tema estudiado, la intercepción, es la gran protagonista. ¿Aceptas el reto? Hay tres niveles para que cada jugador pueda encontrar ejercicios adecuados.
Finales explicados: El mate de los 2 alfiles. Por Nicola Lococo.
El filósofo y monitor de ajedrez vasco, Nicola Lococo, explica su propio método para este importántísimo mate. Dentro de los mates básicos, el de los 2 alfiles es uno de los más importantes (junto con el de dama contra rey y el de torre contra rey). Aprende la manera más sencilla de llevar a cabo con éxito este mate.
Viaje en el tiempo. Por el G.M. Carlos Matamoros
Nuetsro amigo y colaborador Matamoros se ha subido en la máquina del tiempo. lleno de emoción no ha resistido la tentación de ser patriota. ¿Qué partida buscará un ecuatoriano patriota en la máquina del tiempo? ¿Qué moomento histórico decidirá vistitar. descúbrelo en el próximo número de Capakhine :)
El árbitro responde. Cambios en el reglamento. Por el A.I. Enrique Pescador.
Hay novedades en el reglamento, así que todos aquellos que participan en torneos deberán estar al tanto de las novedades. Y nada mejor que leer atentamente el resumen que ha preparado nuestro árbitro favorito, Enrique Pescador, que explica con detalles los cambios del reglamento más importantes.
Cuento. El sacrificio. Por David Vicente.
Una nueva historia de la pequeña Judit, narrada con la ternura habitual que muestra el escritor madrileño David Vicente Valentín (recientemente galardonado con el prestigioso premio literario internacional "Ciudad de Barbastro"). Nuestro amigo y colaborador relata su historia alrededor del tema del sacrificio ajedrecístico.
Tutorial ChessBase. usando los módulos de análisis.
En los últimos años una de las herramientas que más ha cambiado la manera de trabajar del ajedrecista de cualquier nivel ha sido la aparición, desarrollo y avance de los programas de juego. Los módulos de análisis nos permiten consultar a los monstruos de sicilio desde el mismo programa ChessBase. Por ello explicamos cómo instalarlos y cómo usarlos de la manera más efectiva.
Y además:
Trucos y celadas en las aperturas. Una nueva selección de trampas típicas en la apertura que todo aficionado al ajedrez debe conocer.
Campeones de ayer y hoy. En esta ocasión el protagonista es el G.M. Ángel Arribas. Nos responde a unas preguntas y hacemos un repaso a sus éxitos en la etapa escolar. Y no os perdáis su album de fotos personal :)
Campeones del mundo. Nuestro dibujante favorito, el talentoso Wadalupe, nos ofrece una caricatura recortable de un nuevo campeón del mundo. Nuestra colección se va ampliando con el de Spassky, de quien recordamos, además, algunas frases famosas.
¿Sabías que...? Curiosidades y anécdotas del mundo de las 64 casillas.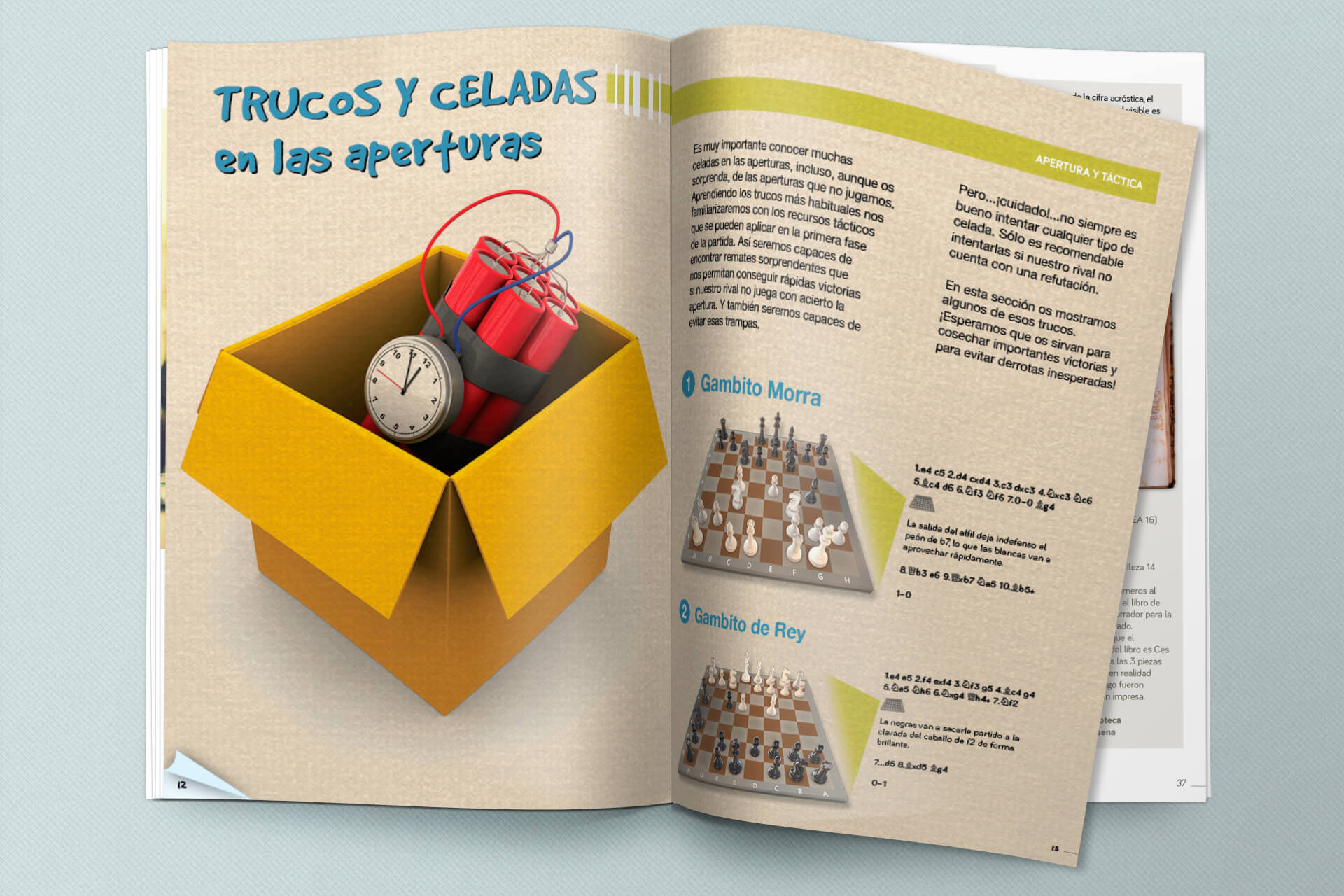 Interview: Chess journalists.
We have selected three of the best and most representative journalists in the world of chess. David Llada, the image of chess. He knows how to capture with his camera the best moments of the tournaments. Manuel Azuaga and Roberto López, the voices of chess. Everyone already knows his magnificent program on Radio Victoria: The Corner of Chess. Now they will be interviewed. And Federico Marín Bellón. The word of chess. He knows better than anyone else the stories and curiosities of the world of the board in his blog Play with head.
Ferami School. When chess comes to life. By Joaquín Fernández Amigo.
The great expert in educational chess and cross-applications of our classroom game, speaks to us in this new article on how to prepare a living chess. This is a very interesting activity to do in any educational center and that can have a great impact.
Subject Chess in ... Aragon. By Miguel Ángel Mimbela.
We continue to know different projects of educational chess in the different autonomous communities. It is the turn of Aragon and we are lucky to know the progress made in this community by the hand of Miguel Angel Mimbela, teacher and author of the recent book: Do you know to play chess, dad?
Investigation. Benefits of chess in mathematics. By Jorge Barón.
The expert in chess and education in Aragon, Jorge Barón, debuts as a collaborator of Capakhine trying to shed some light on the truthfulness and importance of studies that have been conducted to find out if chess can help in mathematical understanding.
Chess in art. Chess in literature. By Pablo Martínez.
If in the previous issue we talked about the repercussion of chess in the cinema, now it is the turn of literature. Pablo Martinez, head of the CTD Naranco de Oviedo, one of the clubs most involved in school chess, reviews some of the titles and authors more linked to the world of 64 squares.
History of chess. The professor of chess by Lucrecia Borgia. By Juan Antonio Garzón.
The eminent Valencian historian, writer and journalist invites us back to the past. Once again we enter into a story that could belong to a mystery novel. And as always, these articles offer new insights and advances in the history of our game. Everything a luxury.