 
Capakhine nº 9
Article to encourage smaller and material that will be useful for monitors and teachers who teach chess.

Secure payment with SSL Certificate

Shipping all over the world

30 day return
CHESS OPENINGS. FRENCH DEFENSE WINAWER. By the M.F. Luis Fernández Siles
We propose in our section of chess openings a variant against the French Defense that we hope you like and find it useful. It is a deviation of the main lines, in which the white ones close the center with the advance e5. Well, we propose a less well-known and perfectly playable way, which often leads to combative positions of opposing enroques. After 1.e4 e6 2.d4 d5 3.Cc3 Ab4 we studied 4.Ce2
STRATEGY. THE RETRO PEON. By G.M. Enrique Rodríguez.
In this new article the G.M. Enrique Rodríguez continues the review he is making to the main weaknesses of the pawns. Once you have instructed us in previous articles about folded pawns or isolated pawns, our tutor teaches us everything we need to know about the retarded pawn, with its usual friendly and educational tone.
TACTIC. THE ATTRACTION. Drafting.
A tactical subject that is very useful in positions of attack to the enemy king and that can give us the opportunity to make a brilliant shot. We explain what it is and we provide examples of how to make use of this important tactical resource.
THE TACTICAL SEMAPHORE. COMBINATIONS WITH THE ATTRACTION. For Manolo Alcover.
There is no better way to familiarize yourself with tactical issues than doing exercises in which they appear. That is why the excellent chess monitor Manolo Alcover proposes to us a selection of problems, divided by levels, so that it is well learned the resource subject that occupies us in this new number of the magazine Capakhine.
PRACTICAL FINALS. By M.I. Alfredo Brito.
The renowned canary chess coach M.I. Alfredo Brito proposes to us a new selection of endings, divided by levels, so that we learn some positions of great importance on the final phase of the game. With these exercises learning late chess is much easier and more entertaining.
TIME TRAVEL. By Antonio Gude.
It is an honor to re-count on our pages with a collaboration of the best author of chess books in Castilian. Gude is a scholar on chess history, so we have found it especially interesting to climb the time machine to travel to some interesting moment. With amicable and didactic comments we are moved to a truly beautiful game, which every fan should know.
THE ARBITRATOR ANSWERS. THEORETICAL TABLES? By the A.I. Enrique Pescador.
Our arbitration specialist has gone to the section of children to clarify some very important issues on the subject of theoretical tables, which had already been mentioned in a previous article, but which is now developed in depth. Enrique shows us some positions that we must know when claiming this type of tables.
CHESSBASE TUTORIAL. EXPORTING OUR PARTIES.
It is clear that ChessBase is an indispensable tool for the chess player, to prepare games, to study chess, to analyze disputed games and to keep them, etc. But in this new installment of our tutorial we will see how we can export our games. We will learn to send them by mail, to create an online viewer that we can share on the web, to print them or to create a Word file. We will see how to create diagrams and some other things. It will be very interesting for children, but also for any amateur or responsible for a tournament or club.
STORY. AN OLD PERSIAN POEM. By David Vivancos.
The author of "Intermediate plays in chess" (great book of stories about chess) gives us a nice story in which a story related to the origin of the game is recreated. As always, Vivancos transports us to the personal universe he creates with his magnificent prose.
PLUS:
The World Champions. Do not miss the new vignette of the extraordinary draftsman Wadalupe, where he portrays a new world champion: Tigran Petrosian, from whom we also select some famous phrases.
Did you know...? Curiosities and anecdotes of the world of chess that will draw a smile on your lips.
Tricks and fixtures in the openings. You should be aware of some trappings and opening traps that can lead to a quick victory (or defeat in case we do not know them). As in each issue we offer you a selection of some of the most dangerous.
Champions of yesterday and today. In this section we review the history of the school stage of some players who have reached very high in the national panorama. This time we shared a small interview and the family photo album of the Asturian international master David Recuero.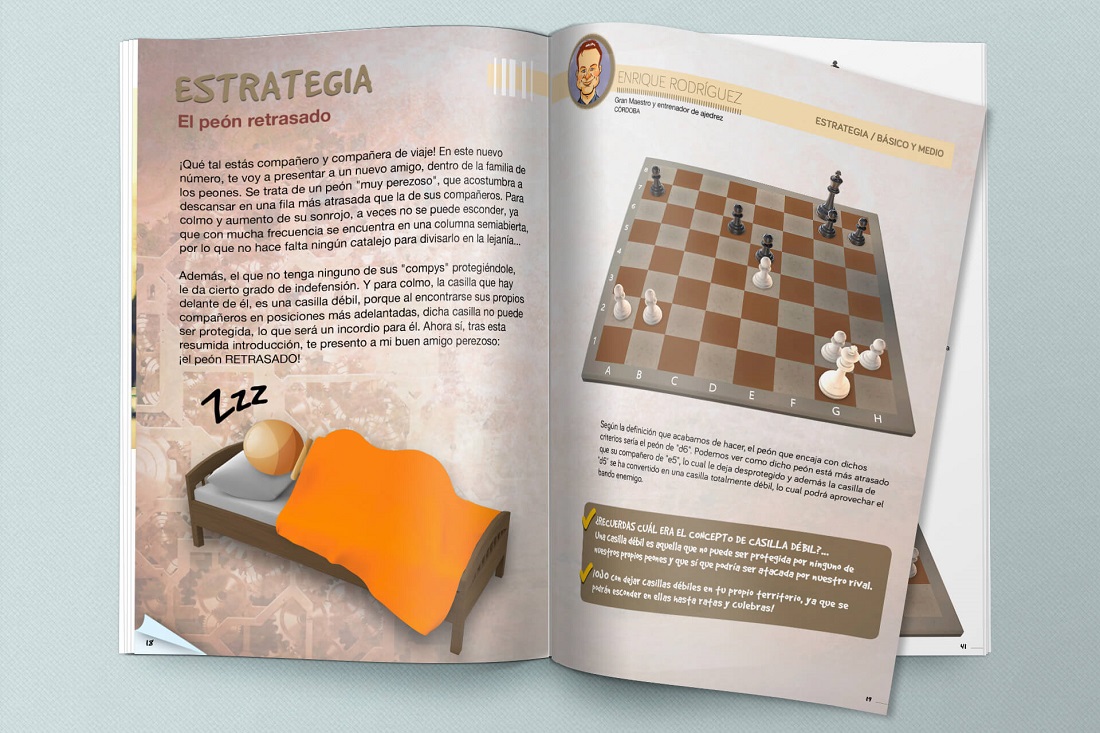 Data sheet
Editorial

Capakhine

Format

21 cm x 29,7 cm

Binding

Paperback

Pages

100

Edition

Spring 2017

Language

Spanish

Collections

Capakhine

Year of publication

2017