Here is a summary of some of the highlights of the first issue of Capakhine, the chess magazine for children and their parents.
In addition to the outstanding contents that we summarize, in the magazine you will find many more didactic contents of chess for children and articles of interest for parents.
Content of the two versions, in the corresponding tab.
Editorial

Capakhine

Format

21 cm x 29,7 cm

Binding

Paperback

Pages

100

Edition

Winter 2015

Language

Spanish

Collections

Capakhine

Year of publication

2015
Half of the magazine offers technical articles chess for children, both openings, as about half-game and final. Also tips competition, regulation and motivating for young chess sections.
The other half of the magazine is aimed at adults, with interviews, research articles, tips psychology and a wide variety of items.
OPENINGS: Slav. By M.F. Luis Fernández Siles
One of the most solid and healthy against the Queen's Gambit Slav approach is, we recommend in this article to play with black. Players of a more basic level may be initiated in this defense and learn some of the most important issues to implement it successfully. Players find a higher level unaintroducción to this defense that will help them get an idea of ​​the lines and most important ideas.
STRATEGY: THE BREAKS IN ATTACKS THE KING. By M.I. Alfredo Brito
Understand what a breakpoint and how to use it is one of the most important issues in the chess strategy. The canary International Master Alfredo Brito offers us a study on this subject, subjects applied to attack the enemy king. In the study it gives us Alfredo Brito learn to use the breaks in positions with the enemy king in the center, with opposite castling and castling on the same flank.
TACTICS: DISCOVERED ATTACK
We continue with our discussion of the main tactical chess resources for children to learn the most important issues that will help to make combinations and precise attacks. The attack on the Naked is one of those tactical elements that every good chess player should know and apply.
TRAFFIC LIGHT TACTICAL: DISCOVERED ATTACK. By Manolo Alcover
To reinforce the tactical theme Discovered Attack, Manolo Alcover, monitor and promoter of chess, it offers tactical exercises unaselección divided by levels. Thus, all children will find suitable problems to your chess strength and be able to practice the subject studied.
PRACTICAL FINAL. By M.I. Bjarke Sahl
The final chess are essential, although there is unfortunately a fairly large this stage of the game by many players lack. From Oslo comes a new collaboration of the International Master Bjarke Sahl, who was selected by very instructive final levels so that our readers are learning and improving in the last phase of the game.
THE REFEREE RESPOND. BEHAVIOR DURING THE COMPETITION. By Daniel Escobar FIDE Arbiter.
Our gaditano collaborator Daniel Escobar, referee, professor of chess and FIDE Master cn shares our readers a few tips so we know how we should behave during a chess tournament. When participating in competitions is very important to consider a number of details that Daniel speaks in this article.
TEST PERFORMANCE IN COMPETITION
We test our readers with this test on which should respond to different questions. Sure some of them will find it easier to those who have read the section REFEREE RESPOND, although in this test asked about other issues besides those addressed in the article by Daniel Escobar.
TUTORIAL CHESSBASE: REPORT OF OPENINGS
In our previous installment of this tutorial we addressed the subject of study of chess openings with the fantastic ChessBase program. We completed the issue with this new chapter that explains how to use the "Report Openings" offered by the program function. When studying openings will be very convenient and comfortable to know how to use this function and performance to get all our ChessBase program.
TALE: HIPÓLITO
The life of Hippolytus, a seahorse, is surprised by the appearance of a suitcase down to the seabed. The protagonist of our story no doubt try to open it, not knowing that their content will change the lives of the animals that share the seabed. What's in the suitcase? What adventures awaits Hipolito? A nice history of our writer Pilar Talavera.
PLUS:
World Champions. New recortable bullet genia Wadalupe cartoonist. This time Alekhine is the protagonist.
Tricks and traps in the openings. New collection of some of the best tricks and traps that can be performed in the initial phase of the game.
Champions Yesterday and Today. Anabel Guadamuro is one of the players who has garnered more success in their school years (and later). Anabel tells us some of his "secrets" and hacemosun brief tour of his biography and his family photo album.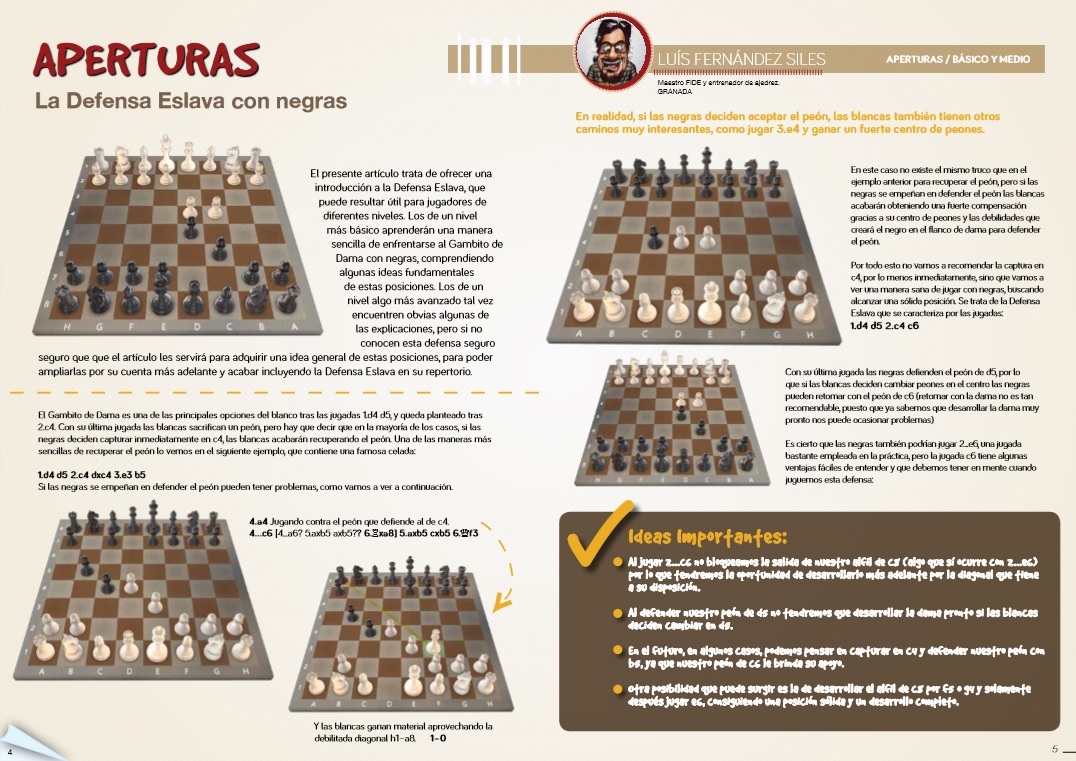 INTERVIEW: SABRINA VEGA. Champion of Spain of Chess
Sabrina Vega has recently imposed herself on the Spanish Women's Championship and has subsequently performed an amazing performance in the European Championship of Chess by teams, also obtaining, rule of Grand Master. We took the opportunity to talk with her about her relationship with chess, her opinion about the inclusion of chess in schools, her experience as a chess monitor, about women and chess, and many other interesting topics.
FERAMI SCHOOL: THE SOCIAL TRANSVERSALITY OF CHESS. By Joaquín Fernández Amigo
Our collaborator Joaquín Fernández Amigo once again offers us a great article in which he talks about the integration of chess in Social Area classes. In previous installments of this section we have dealt with topics as interesting as the transversality of chess in subjects such as mathematics or language. This time it is the turn of the Social Area and Fernández Amigo shows us different exercises that can be used to integrate chess in this subject.
THERAPEUTIC CHESS: ASPERGER AND CHESS. By Juan Antonio Montero.
The psychologist Juan Antonio Montero is one of the pioneers in therapeutic applications of chess. In this new article he talks about how and why chess can help people suffering from Asperger's Disorder, who are included in Autism Spectrum Disorders. Besides the article shows us some exercises that are usually used in this type of therapies.
SURVIVAL MANUAL FOR PARENTS OF ADJECTIVES. INTENSITY. By M.F. Luís Fernández Siles
In this new installment of the section we talk about a very important issue in the practice of chess: intensity. The great players have always stood out for being able to play with maximum intensity and concentration in all games. However we often find that the little chess players are not able to show that same intensity always. We try to find out why this happens and how to change it.
PSYCHOLOGICAL PREPARATION. MOTIVATING THE CHESS STUDY. By Carlos Martínez Piqueras.
At present, chess players can find a variety of material for the study, but many children just want to play chess and do not worry about better understanding the game of chess through reading. Our prestigious psychologist talks about this topic and gives some tips to motivate the children in the study.
HISTORY TOPICS OF CHESS. ORIGIN AND FOUNDATION OF CAPTURE TO STEP. By José Antonio Garzón.
The journalist, historian and writer José Antonio Garzón reveals to us the origin of the rule of the capture to the passage. A review of the history of chess by one of the greatest specialists in the world.
CHESS AND EQUALITY. A SOCIAL PROJECT ON THE BOARD. By Manuel Azuaga.
Manuel Azuaga, increasingly known for his great radio program "El Rincón del Ajedrecista" and for his magnificent task at the head of the Association "Social Chess of Andalusia", speaks of an extraordinary project carried out by this association in the That chess is used as a tool to favor strategic thinking with women at risk of exclusion.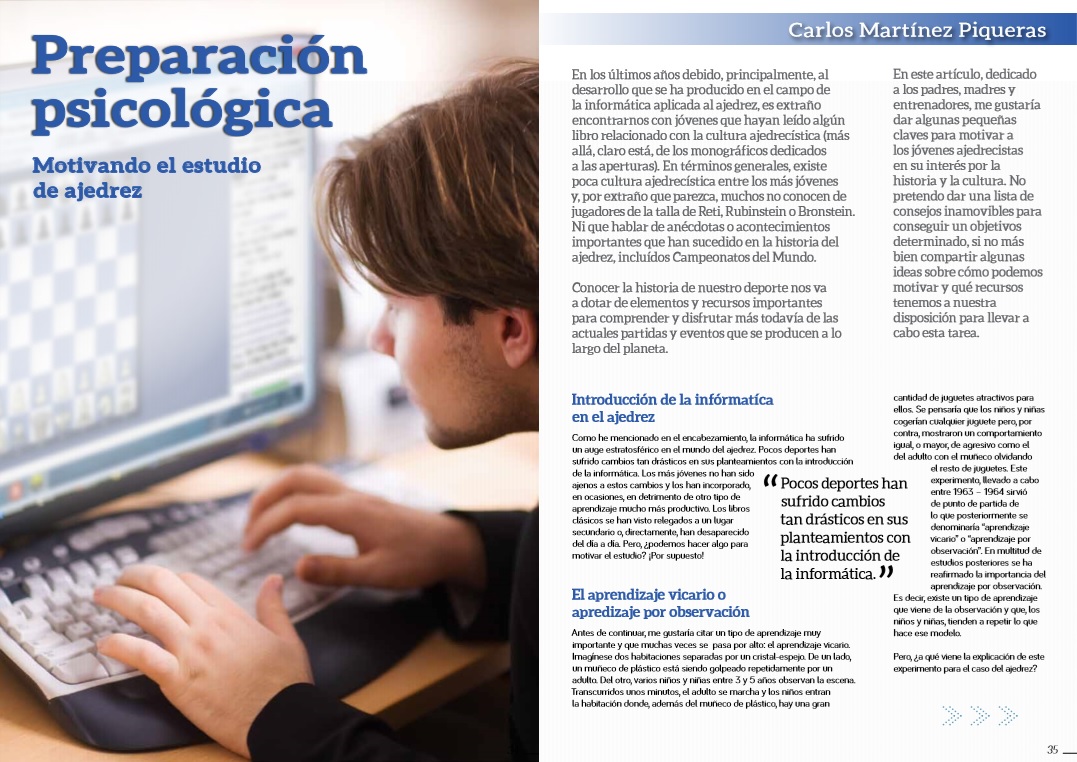 Customers who bought this product also bought: