Here is a summary of some of the highlights of the first issue of Capakhine, the chess magazine for children and their parents.
In addition to the outstanding contents that we summarize, in the magazine you will find many more didactic contents of chess for children and articles of interest for parents.
Content of the two versions, in the corresponding tab.
Editorial

Capakhine

Format

21 cm x 29,7 cm

Binding

Paperback

Pages

100

Edition

Fall 2015

Language

Spanish

Collections

Capakhine

Year of publication

2015
OPENINGS: THE DEFENSE PHILIDOR. By M.I. Alfredo Brito
He i. Alfredo Brito offers an interesting article about an opening in recent years is enjoying a renewed popularity. Our partner focuses on tactical issues that may appear on the f7 square, especially if Black does not play accurately. A work that will be very useful for players who frequently come into these positions as for any player who wants to improve their understanding of some types of center appearing in ventilation openings. Brito study gives us a clear, concise and above all very enriching.
STRATEGY: THE BISHOP OF FIANCHETTO. By M.F. Luis Fernández Siles
The Fianchetto is a type of development very common in chess bishop. An essential part of many openings and defenses and in many cases the players castling with Fianchetto protection. This article discusses some strategic issues of the utmost importance for Fianchetto and castling that contain it are studied. What happens when we run out of the bishop of Fianchetto? How castling with Fianchetto attacking? The article, despite being Strategy, also completed with some tactical matte typical figures against a castling with Fianchetto structure.
TACTICS: the enfilade. Drafting
One of the most frequent tactical resources in chess, which appears particularly often in the chess games played between children. The enfilade should be part of the arsenal of tactical chess player of any level, so explain what is in this new article tactic.
THE TACTICAL SEMÁFOTO: the enfilade. By Manolo Alcover.
To complete the assimilation of tactical figure enfilade, our partner and extraordinary chess Manolo Alcover monitor offers three sets of exercises, separated by levels, where the enfilade is the main protagonist. Children will find in this section appropriate to their level exercises to practice tactical spikes that can occur in which the enfilade is presented.
PRACTICAL FINAL IN CHESS: For the M.I. Michael Rahal.
Always insist on how important is the study of the end for the evolving chess player. Desgraciadamentemuchos children focus only on the study of openings, without giving the importance it deserves to work on final chess. To facilitate the progress of young chess players offer a new selection of finishes, divided by levels and selected, this time, by the M.I. Michael Rahal, expert in teaching chess. Children will find in this section some essential end to understand and improve in the last phase of the chess game.
THE REFEREE RESPONDS: TABLES IN CHESS. By Daniel Escobar FIDE Arbiter.
Our expert in regulation chess for children, the referee FIDE Daniel Escobar, who is also speaker, lecturer and one of the first people dedicated to teaching chess in school hours on a school responds in this section some of the most common questions you may have children who play chess and participate in competitions. When a game can be in tables? How the tables are claimed in a tournament? Daniel Escobar gives us the yaclaraciones explanations that children should learn about the tables in chess.
TEST chess culture
A challenge that will appeal to many children (and adults). One thing is knowing how to play chess and quite another to have a minimum of chess culture. In this test we propose a challenge to the reader: show what he knows and does not know about some key themes of chess history and current chess elite. Names of the players, world champions, chess books and more.
CHESSBASE TUTORIAL FOR CHILDREN: HOW TO STUDY OPENINGS WITH CHESSBASE
One of the sections that have more appreciated our young subscribers. And in these times it is imperative to be comfortable with the computer equipment and the ChessBase program offers many possibilities for the study of chess. So that children can have this fantastic tool we offer this section. In this new installment we begin to see how children can study openings with ChessBase, so they can improve on their own, only with the help of computer.
TALE OF CHESS: THE CHESS MAGIC. By Pilar Talavera.
A girl receives an inheritance from her grandmother an unexpected gift: a chessboard. Why his grandmother let him that legacy? Shortly afterwards finds a child lost in the woods. But little speaks another language and frightened. However chess serve to unite them. But what secret hides that chess? Soon become unexpected events ...
Pilar Talavera again offers us an entertaining story with chess as the protagonist.
AND FURTHER: The World Champions. Get the cut-out with the fantastic Wadalupe vignette. In the previous issue we offer you the second world champion, Lasker. In this third issue of Capakhine Magazine Capablanca's turn touches. Tricks and cloaks in the opening. Again we offer a selection of ensigns that also allow us to acquire knowledge about the main tactical resources that come into play in the first phase of the game. Champions of yesterday and today. G.M. David Lariño, former champion of Absolute Spain, offers us some tips for our readers and we review his brilliant career as a school player.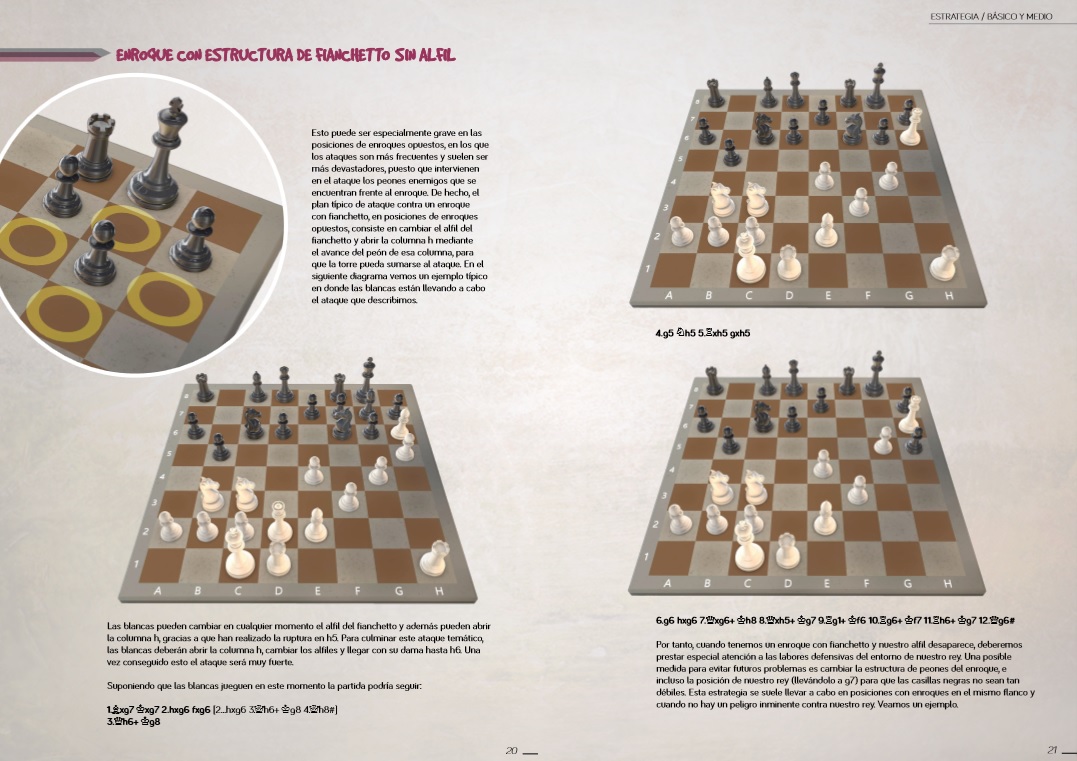 INTERVIEW: HILARIO BLASCO, PSYCHIATRIST OF CHILDREN AND ADOLESCENCE.
The world of therapeutic chess has been revolutionized with a study recently published in the Journal of Psychiatry and Mental Health. With the title "Chess Efficiency in the Treatment of Attention Deficit Hyperactivity Disorder: An Open Prospective Study," Dr. Hilario Blasco, an eminent expert on chess in therapies with children with ADHD, autism or Asperger's, has shown To the scientific community the progress that their research shows. In the interview he has kindly granted us talks about this study, it clarifies how chess helps hyperactive children and what the classes should be for these children.
THERAPEUTIC AND SOCIAL CHESS: WORKING WITH CHESS UNTIL AGING. By Juan Antonio Montero.
The psychologist Juan Antonio Montero, specialist in the application of chess as a therapeutic tool, talks about the benefits of practicing chess from our earliest stages, and how in the future that work that our brain has done will serve to prevent and delay cognitive impairment . Chess is an effective tool to keep the mind in good condition at any age and our collaborator sums up the benefits of our game for the elderly, offering some sample exercises used in their chess courses with seniors.
FERAMIM SCHOOL: CHESS ALSO SPEAKS. By Joaquín Fernández Amigo.
Our collaborator Joaquín Fernández Amigo, one of the people who knows the most about educational chess at an international level, offers us a new article on chess in the classroom and how it can help and integrate into other subjects. In this new installment he shows us great examples of how to integrate chess and language. Fernández Amigo shares with us exercises intended for children in primary, secondary and secondary education.
THE WOMAN AND THE CHESS. By María Rodrigo Yanguas.
Clinical psychologist and chess monitor María Rodrigo opens as a collaborator of Capakhine with an article where she offers us her personal vision about female chess. Does the female category exist in chess competitions, is it beneficial or harmful to the players? Why is the champion of the world always a man? Why do not women usually reach chess levels as high as men? Does the mind of a woman and a man in a game of chess work in the same way? María Rodrigo invites us to reflect on some issues of interest about chess and women.
SURVIVAL MANUAL FOR PARENTS OF ADJECTIVE CHILDREN. By M.F. Luís Fernández Siles
In this new article in the section we talked about the chess club. How chess clubs work and what we should expect from ours. How we can collaborate and how they are fundamental for the learning and ecology of children in chess. We reflect on the clubs, their leaders, the people who make it possible and the important issues that are linked to them.
PSYCHOLOGICAL PREPARATION: THE ROLE OF MOTHERS AND PARENTS IN THE COMPETITION CHESS. By Carlos Martínez Piqueras.
Our collaborator Carlos Martínez, a specialist chess psychologist, shares with our readers a great article in which he discusses an issue that frequently raises a certain controversy: the role of parents in competition chess. While all parents are often happy that their children learn chess at school or at a club or school, the truth is that everyone acts differently when their children begin to compete. The psychologist offers some keys so that the role of the father during the chess tournaments is the most appropriate.
HISTORY TOPICS OF CHESS. TWO DAMAS MONOCOLOR ON THE BOARD. By José Antonio Garzón.
Writer, historian and journalist specialized in the history of chess, José Antonio Garzón, has spent a lifetime publishing studies, articles and books about the history of chess. In this new section that offers us will rescue some moments of special importance in the history and evolution of our game. In this article we propose a trip to the XV and XVI centuries to know better what was the chess of that time and how it evolved to ours.
How should we see the figure of the referee in a tournament of chess? How should the relationship between players and referee? How should an arbitrator act before the new changes of the regulation? A review of the figure of the referee and his relationship with the players, by our collaborator, the referee FIDE Enrique Pescador.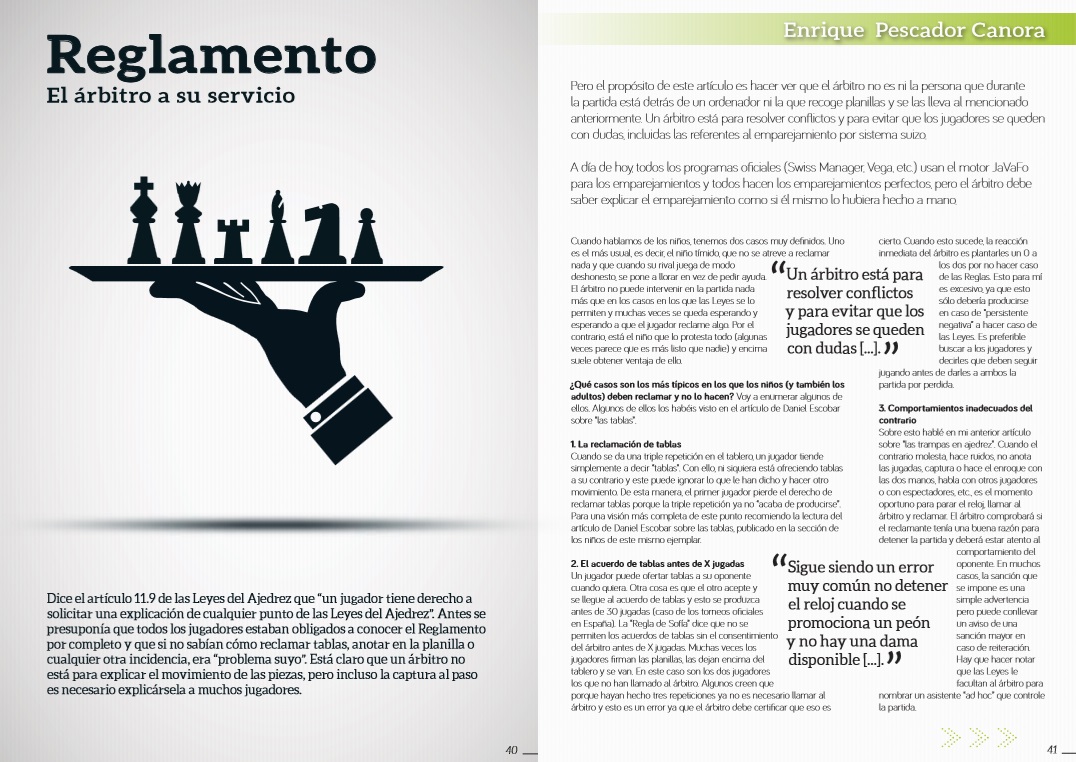 Customers who bought this product also bought: