The final number of Capakhine has collaborations of great interest both for the chess progress of children who practice chess in competitions, as well as for those teachers and monitors who teach educational chess classes.
Also with tips and reports for parents and families of children who play chess.
As you know, the magazine has two covers to differentiate the content for children and the one addressed to parents and monitors.
Content of the two versions, in the corresponding tab.
Editorial

Capakhine

Format

21 x 29,7 cm.

Binding

Paperback

Pages

100

Edition

Winter 2018

Language

Spanish

Collections

Capakhine

Year of publication

2018
Chess openings How to play against the gambitos (and 2). By the MF Luis Fernández Siles
Our director completes this work where some simple lines are recommended to combat some of the most frequent or interesting gambits that may arise. With these resources you no longer have to be afraid of those dangerous pawn sacrifices in the opening.
Strategy. Hunting for the pawns. By GM Enrique Rodríguez
Throughout our collection, our master strategist has shared with us many ideas, subtle and concepts related to pawn structures, to strengthen our strategic vision. Now he says goodbye with an article where he tests the reader's knowledge.
Tactical traffic light. By Antonio Gude.
The eminent author Antonio Gude proposes a series of tactical exercises where you will have to show that you know some of the main figures of mate that exist, which was dealt with in the previous issue. A good way to test our tactical vision.
Time travel. The bravest king. By Luis Fernández Siles
Being the final number of Capakhine, our director wanted to get on the time machine to travel to one of the most incredible games in the history of chess. If you think that chess should stay safe in the middlegame, wait to see this delicious exception.
Practical endings.
The final phase of the game is extremely important, although some call it boring. Learning the concepts of the end will be very useful, not only to make sound decisions when we are already playing an end, but to know when we should simplify in the middle game and reach the most favorable endings.
The referee answers. Build your own tournament! By AI Enrique Pescador
Our favorite referee gives you some important tips so you can decide to create your own chess tournament. Do you think it is so difficult? You will be surprised to know that it is not so complicated, especially following the advice of an expert.
Story. The chess of the grandfather. David Vicente Valentín
Since we are saying goodbye, the great writer David Vicente brings us a tear with this emotional story. It is always a great pleasure to enjoy the prose of this great author, even if the story is a bit sad.
Cross-sectional exercises
Friends of educational chess will enjoy this collection of chess exercises related to different school subjects, such as mathematics, history, language, English, etc.
Our chess section for children also has other usual sections, such as the Wadalupe vignette of the World Champions, the curiosities of "Did you know ...?" or the opening traps of the "Tricks and traps in the openings".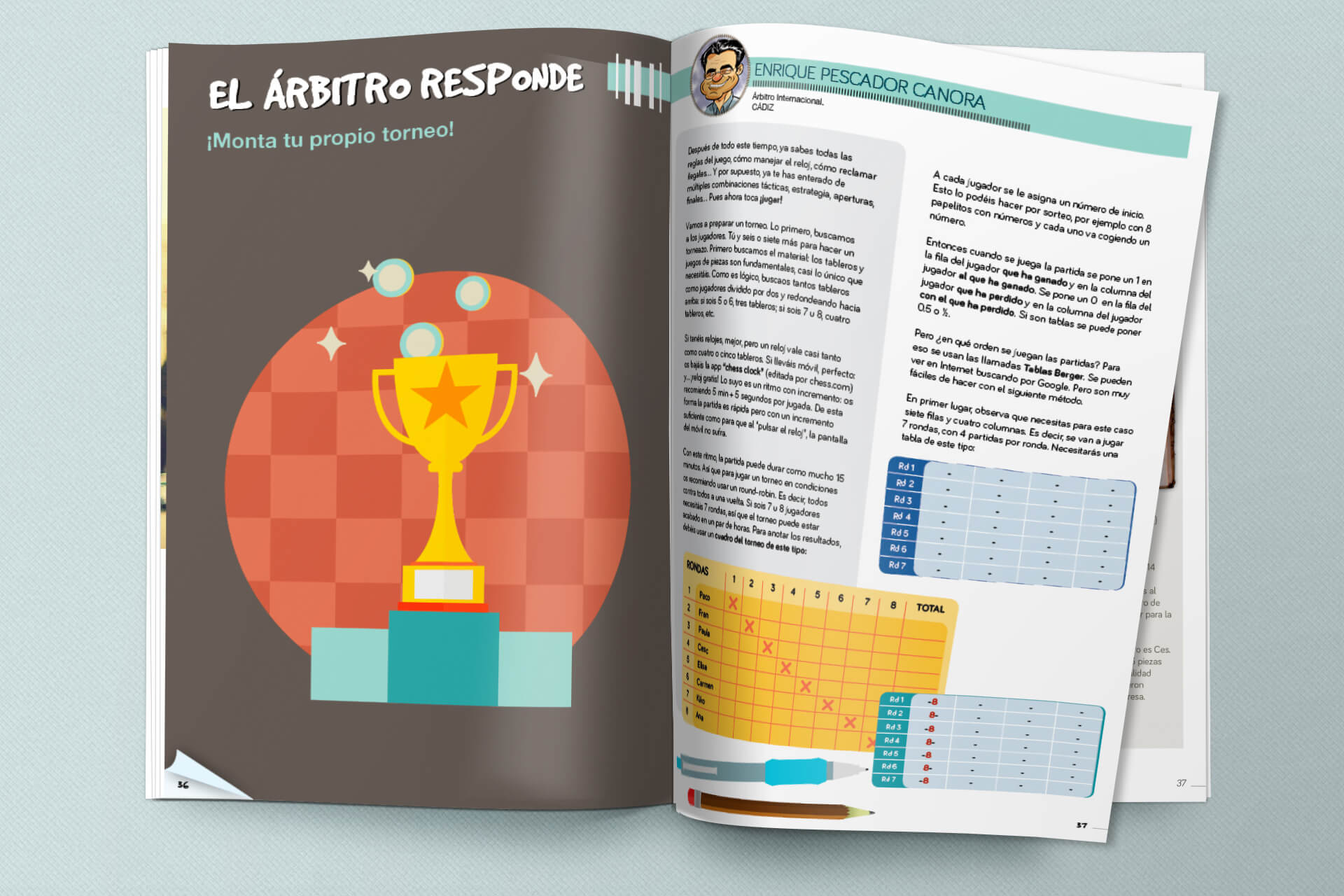 Interview. Pedro Ginés, world champion sub14
Pedro has become a hero by conquering the coveted title of world under-14 chess champion. We offer you an interview with him, but also his parents and his coach offer us some keys to this triumph.
Educational chess. Chess and smiles. By Lorena García Afonso
One of the great chess experts as an educational tool reveals some fundamental questions for the success of our game in the classroom. "Educational chess goes hand in hand with sports and that link dignifies them and makes both stronger", the author tells us at the beginning of the article.
1, 2, 3 Chess! Resources for teaching educational chess. By Miriam Monreal
What are the essential resources in the chess classroom? With what games and material should the educational chess teacher have? Miriam Monreal answers these questions and recommends some materials that can be very useful in educational chess classes.
Psychology. 7 ideas that make sense. By María Rodrigo Yanguas
Our favorite psychologist talks to us about some methods and subtleties that will be very useful for chess monitors, educational chess teachers and parents of children who play. Responsibility, expectations or goals, are some of the points dealt with in this interesting article.
Chess History Issues. A tournament of Candidates in the Court of Felipe II. By José Antonio Garzón
If in other articles José Antonio Garzón, scholar of the history of our game and outstanding author of it, has treated the beginnings of modern chess and the secrets of how they were born and changed some of its rules, this time we talk about a tournament special.
Culture. Philosophers and chess players. By Nicola Lococo
The philosopher Nicola Lococo returns to the pages of Capakhine to speak precisely of the philosophers who were known fans of the noble game. "If chess taught to think, most chess players would be philosophers, and if philosophy taught to reason correctly, most philosophers would be good chess players," the article begins.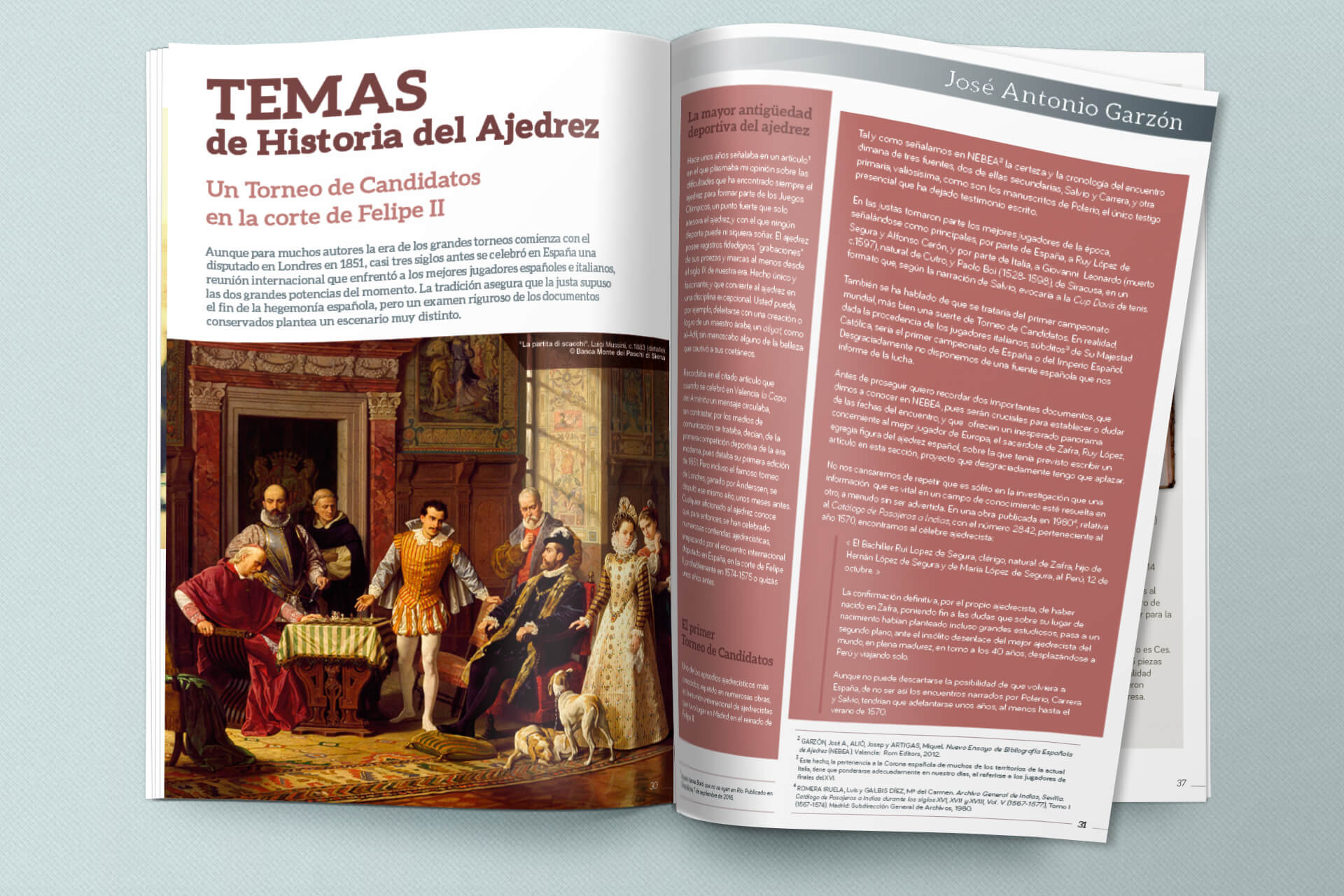 Customers who bought this product also bought: